Just one year into the life of Putney & Wimbledon Brass Band it seemed the right time to throw a party at Community Church, Putney with The Mayor of Wandsworth in attendance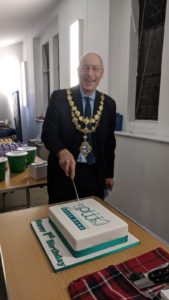 We opened with stirring classical brass band standards Barnard Castle and  Trailblaze.  
Then the  most beautiful and moving of all pieces of the evening – a classic hymn Crimond known to all as "The Lord is my Shepherd"
Travelling through the different genres, we marched through Sturminster High, and soothed ourselves with the classic hymn I Vow To Thee My Country.  We then sprung into movie theme Born Free and onto Anthem from the musical Chess.  We rocked to Queen's Bohemian Rhapsody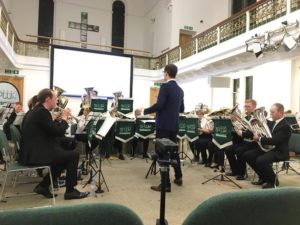 then eased gently into the beautiful Calling Cornwall sunrise; music that took us on a journey through the Cornwall landscape.  That was one of our four Goff Richards compositions of evening and we managed to squeeze in Still Time.
Our youngest piece of music composed by Justin Bieber and Ed Sheeran was Love Yourself,  and we literally struck gold with an arrangement of classic ABBA hits from Alan Fernie to round off the party with ABBA Gold.
A wonderful evening for everyone involved, thanks to: the Mayor of Wandsworth for celebrating with us; Community Church Putney for providing the venue
A great celebration for our first birthday … we are looking forward to a bright brass banding future in Putney and Wimbledon!