Just one year into the life of Putney & Wimbledon Brass Band it seemed the right time to throw a party.  With a list of achievements as long as our shiny green ties, we have a lot to celebrate and – to be honest – we love any opportunity to play.  Our enthusiasm for #brassbanding is infectious; with every outing in the community we gather new followers and spread the brass band love.  Tonight was the perfect event.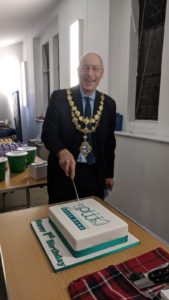 Having entered the Community Church in Putney at 8pm – with the Mayor of Wandsworth in attendance – those members of the audience new to brass banding would be forgiven for expecting a calm, quiet and reverent start to our concert.  However, our opening number Barnard Castle did make the audience wake up and sit up!  By the time we hit the first note of Trailblaze, they were well prepared for this explosive and entertaining piece; moving through every dynamic, from the euphoniums tiptoeing lightly over the top, to trombones blazing their way through the whole band.
The most beautiful and moving of all pieces of the evening – a classic hymn Crimond known to all as "The Lord is my Shepherd" – opened with soloist & principal cornet Nicholas Scholfield bringing a few tears to the audience with his sublime playing; definitely a fitting venue to allow the church acoustics to reflect the emotion of this evocative piece of music.
Travelling through the different genres, we marched through Sturminster High, and soothed ourselves with the classic hymn I Vow To Thee My Country.  We then sprung into movie theme Born Free and onto Anthem from the musical Chess.  We rocked to Queen's Bohemian Rhapsody and had some of the audience head-banging in their seats.  Our drummer, Joseph, could be forgiven for making this his favourite piece of the evening, though he probably needs to grow his hair a little longer to look the part!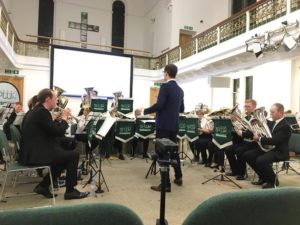 We eased gently into the beautiful Calling Cornwall sunrise; music that took us on a journey through the Cornwall landscape.  That was one of our four Goff Richards compositions of evening and we managed to squeeze in Still Time.  To prepare us for the tempo, our MD Sam Topp gave us his signature hip wiggle to settle us into the driving rhythm of this entertainer.  Just watching Sam enjoy this Goff number was probably entertainment itself.
Our youngest piece of music composed by Justin Bieber and Ed Sheeran was Love Yourself, with soloist Andy doing the loving from the onset!  No birthday party is complete without a cheesy ending, and we literally struck gold with an arrangement of classic ABBA hits from Alan Fernie to round off the party with ABBA Gold.
With every event, we try to make the right choices; right for the band and right for the community. We also thought about our refreshments being right for the planet and – from a concert with over 100 people attending – we created only a tiny bag of waste; everything else was either eaten or recycled!  As Martin Smith said after the event: "Our concert was a success – much less rubbish than expected!" … not sure that is our perfect strapline but – on an environmental level – we will take that!
A wonderful evening for everyone involved, thanks to: the Mayor of Wandsworth for celebrating with us; Community Church Putney for providing the venue; members of the audience (especially those who came to their first Putney & Wimbledon Brass Band concert); members of the band for compering, arranging the venue, and organising refreshments; and finally our dedicated Musical Director Sam Topp for preparing us for this evening.
A great celebration for our first birthday … we are looking forward to a bright brass banding future in Putney and Wimbledon!