Putney & Wimbledon Brass Band are celebrating because – can you believe it – we've been in existence for a year already. And what a year it has been!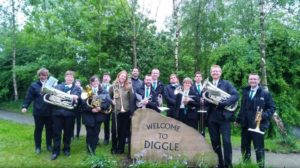 We've gone from a few like-minded brass players, to a thriving local band who have performed in vast array of venues including local schools, Brighton
Bandstand and the villages around Saddleworth (for Whit Friday, one of the largest brass band competitions in the Country).
We started literally with a bang as our first official gig was the Wimbledon Park Fireworks extravaganza; just a few of weeks after our first rehearsal and we played to a crowd of several thousand. Not a bad start!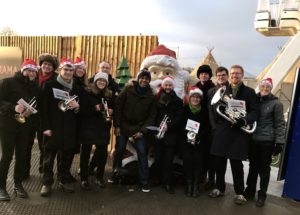 Through the 2017 Christmas period, we put our Santa hats on and headed out across beloved communities, playing our socks off for commuters, Christmas light switch-ons, Community Choruses, public house revelers and church congregations. On top of that we even managed to play on live TV in front of the nation as they ate their respective breakfasts whilst watching Good Morning Britain and Lorraine. Christmas cheer had never been so brass-centric.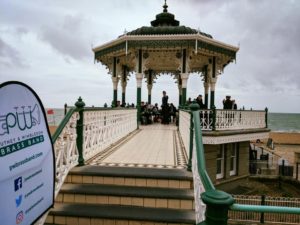 Of course, a brass band is not just for Christmas. What has really amazed us is how the people of Putney and Wimbledon have really got behind us and
embraced brass music into their celebrations and events throughout the entire year. Not only have we more than doubled the number of musicians in the band to well over 30; we have played at cycle races, rowing races, marathon runs, birthday parties and community church events; we've played for schools, pubs, choirs, Guide Dogs, Members of Parliament, NCT Groups and Mayors; we have played on stages, streets, Commons, Moors, gardens, next to the river and by the sea.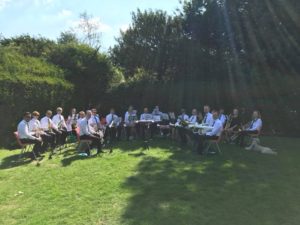 It seems like only yesterday that a group of brass players decided to take their art form to the communities of Putney & Wimbledon, and those communities have certainly taken us – and brass band music – to their hearts. Thank you.
What do you do when you reach the grand old age of 1 year old? You have a party – of course – and you invite everyone along! So you are cordially invited to join us on Thursday 11th October.
Not only will you get to hear us play some of our favourite tunes, but if you're lucky you might even get a chance to chat with the Mayor of Wandsworth, Piers McCausland, who has graciously agreed to come along too.  We understand
he is something of a fan.
We look forward to seeing you on 11th of October, starting at 8pm and continuing on until around 9:30pm, in the lovely Community Church Putney, Werter Road, SW15 2LL.
Come along, let us say thank you, and help us celebrate. And don't worry; it's a birthday party, so there will definitely be cake!