Putney & Wimbledon Brass Band are celebrating because – can you believe it – we've been in existence for a year already. And what a year it has been!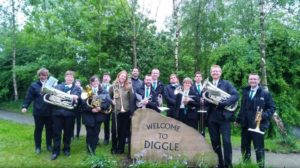 We've gone from a few like-minded brass players, to a thriving local band who have performed in vast array of venues including local schools, Brighton Bandstand and the villages around Saddleworth for The Whit Friday Brass Band Contest,
We started literally with a bang as our first official gig was the Wimbledon Park Fireworks extravaganza; just a few of weeks after our first rehearsal and we played to a crowd of several thousand. Not a bad start!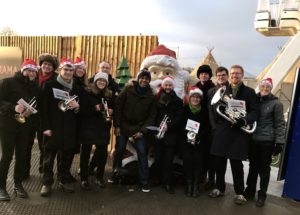 Through the 2017 Christmas period, we put our Santa hats on and headed out playing for commuters, Christmas light switch-ons, Community Choruses, public house revelers and church congregations. On top of that we even managed to play on live TV – Good Morning Britain and Lorraine. Christmas cheer had never been so brass-centric.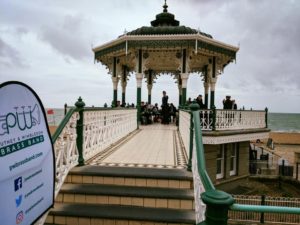 Of course, a brass band is not just for Christmas. What has really amazed us is how the people of Putney and Wimbledon have really got behind us and
embraced brass music into their celebrations and events throughout the entire year. Not only have we more than doubled the number of musicians in the band to well over 30; we have played at cycle races, rowing races, marathon runs, birthday parties and community church events; we've played for schools, pubs, choirs, Guide Dogs, Members of Parliament, NCT Groups and Mayors; we have played on stages, streets, Commons, Moors, gardens, next to the river and by the sea.